Welcome to the United Server Alliance Wiki!
Edit
This Wiki is the official Website for the
UHR
Server and the recently defunct
Adderley
Server. The two main Admins for the servers are wood1pushr (Adderley) and hubadaeus (UHR). Only members of the servers may make an account or edit, everyone that's not will have their account deleted. This is where the both servers' history and builds are recorded, so if you made something on either server, feel free to add it.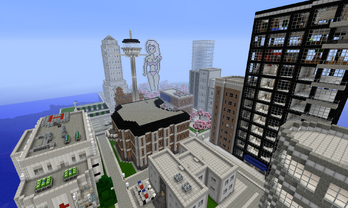 A Little Bit About the UHR
Edit
The UHR server is a modern themed Creative server without whitelisting and uses various VoxelBox Plugins. They have a large community of young and ambious builders. Building in Port Simon is regulated, and to build you are required to take a building test.
The UHR servers have few formal rules, mostly try to build your best, respect your fellow players, don't greif, spam, or be a jerk. Have fun building!
A NEW EXPANSION TO DOWNTOWN HAS BEEN ADDED! UHR PLANNING TO GO PUBLIC SOON!Edit
Adderley is now out of comission, archives of it's articles can still be found under the Adderley Catergory.
Beta Texture Pack Can be Found HereEdit
New texture pack contains HD paintings and a lot of new textures, let me know what you think!